Award-winning Blues/Rock vocalist Nicole Hart
with a smokin' all-star rhythm section from Woodstock, NY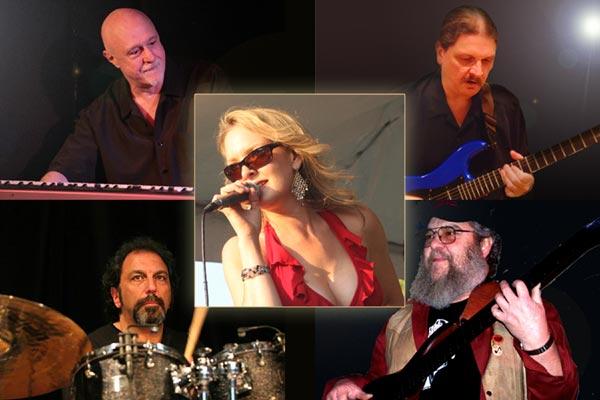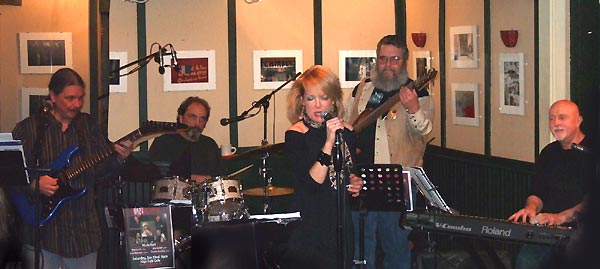 John Cariddi, Jerry Marotta, Nicole Hart, Charlie Kniceley, Pete levin
Rockin' the house in High Falls, NY
Coming to national attention in 2008 on the Blues, Roots, Soul & R&B scene, Nicole Hart made an impressive beginning completing three highly successful tours: she was the featured female performer of Jacksonville Beach, Florida's "Springing the Blues"; the featured female headline act of Laconia, New Hampshire's Big Three Motorcycle Week; she performed many more prominent festivals, including the Jersey Shore Red Bank Jazz & Blues Fest, among other renowned venues on the national circuit. Her initial independent CD release, "NICOLE HART & THE NRG BAND, LIVE!" received airplay on radio stations worldwide.

In 2009 she signed with Blues Leaf Records. Her debut release, "TREASURE," debuted on the Living Blues charts at # 14, and is still in rotation on XM/Sirius Satellite Radio and the nationally syndicated Music Choice television channel. In May 2009, Nicole received the "Female Vocalist of the Year" award at the Los Angeles South Bay Music Awards.

As a modern day Blues woman, Nicole straddles a diverse musical terrain defined by such icons as Koko Taylor, Susan Tedeschi, & Bonnie Raitt.
You know him from his early start with the band Orleans, his recordings and tours with Peter Gabriel in the 70's and 80's, his work with the Indigo Girls, Hall & Oates and Ani Difranco in the 90's, his work with the Tony Levin Band in the last eight years, and recent recordings and performances with Sarah McLachlan, Todd Rundgren and goth legend Peter Murphy.

Jerry has composed and recorded music for television shows, video games, and movies while racking up hundreds of album credits. A skilled vocalist, sax and guitar player as well, in a world where most drummers and musicians sound alike, Jerry is a charismatic legend.

In addition to his live and recording work, Jerry operates Dreamland Recording Studio in Woodstock, NY
As a keyboardist/arranger, Pete has performed and recorded with hundreds of Jazz and Pop artists - including Paul Simon, Annie Lennox, Miles Davis, David Sanborn, Jaco Pastorius, Robbie Robertson, Joe Louis Walker and John Scofield - receiving critical accolades for his work during a 15 year association with the legendary Gil Evans. Best known for his work in the Jazz field, Pete released 3 solo albums for Gramavision Records in the 90s, and in recent years, 3 CDs with his organ trio - the current release being "Jump!" with Dave Stryker and Lenny White.

An in-demand New York session keyboardist and arranger, Pete has also created electronic realizations for hundreds of TV commercials, dramatic series and feature films, including "Missing in Action," "Lean on Me," "Silver Bullet," "Red Scorpion," "The Color of Money," "Maniac," "Spin City," "America's Most Wanted" and "Star Trek." But Pete, whose wry sense of humor is never far from the surface, reveals that his favorite session produced the top-40 hit single "Close to You" by The Clams - a Spike Jones tribute band - with his brother, bassist Tony Levin and drummer Steve Gadd. 30 years later, it's still a cult classic.
Teacher, composer and ubiquitous guitarist in the New York recording studio scene, John has performed and/or recorded with artists including Steve Marcus, Patti Austin, Ricki Lee Jones, Angela DeNiro, Annie Haslam, Nancy Wilson, Joel Grey and Peggy Lee. He has appeared on Broadway in "Godspell" and "Jesus Christ Superstar."

Over the years, John's guitar artistry has been heard on numerous albums, commercials and film scores. His current activities include live performances in many special event shows as well as with various inovative Jazz and Rock groups in the Tri-state area. A master guitarist with a blazing technique, John\'s dynamic approach to live performance has made him one of the most in-demand guitarists in the New York area.

John's recent solo CD release - "Come Together" - produced by gold/platinum award-winner Dennis Bell for Guavajamm Records, gives the master guitarist a chance to shine as a featured soloist.
A fixture in the Hudson Valley music scene for over 30 years, Charlie is best known as a consummate side man, working with a long list of artists including Al Martino, Jerry Vale, Ron Carter, Eileen Fulton, Joe Beck, Ed Summerlin, Danny Lewis, Randy Ciarlante, Jack Dejohnette, Mike DeMicco, Warren Bernhardt, Pete Levin, Connie Francis, Danny Brubeck, The Hudson Valley Philharmonic, Mikhail Horowitz, Honi Coles, Billy Reed, Jimmy Eppard, Brenda Buffalino, Machan Taylor, Mimi Hines, Hal Linden, Lew Soloff, "Blue" Lou Marini and Rashid Ali. Leading his own Jazz groups, Charlie has performed at venues all over the Tri-State area and has been featured at the Edinburgh International Arts Festival in Scotland. Charlie can also be found building signature custom basses for award-winning luthier, Michael Tobias.

Reviews & Press for "TREASURE"
BLUES LEAF RECORDS, RELEASE DATE APRIL 14, 2009
"Fans who enjoy the blues-infused eclecticism of established stars Shemekia Copeland and Janiva Magness will find Hart a kindred spirit." ~ Blues Revue, October/November 2009

"Nicole Hart, with her debut studio release, "Treasure," has a multi-octave voice, with both hard and soft edges, well suited to her contemporary blues, flavored with a bit of R&B. Get Rhythm, get the blues and get this." ~ Elmore Magazine

"Hart has a stunning voice." ~ Richard Ludmerer, Blues Wax, November 2009

"The stage caught fire in 8 seconds flat with the roars, whispers, shouts, and celestial movements of Ms. Hart's voice. She is truly one of the best ladies of the Blues." ~ Michael Wolf Ingmier, Charlotte Blues Society Live Review, November 2009

"The Blonde Blueser cruises into Syracuse...This Georgia peach, currently touring in support of her CD, "Treasure" (Blues Leaf Records) has a supple voice that can handle the many ranges demanded by the funk, jazz and rhythm'n'blues musical persuasions." - Sarah Hogan, Syracuse New Times (Nov 11, 2009)

"In the 16 years that the Blues Summit has been on WMWV, I've heard a lot of Blues singers & bands. Occasionally a singer comes along that perks you ear and makes you think, "Yeah there's something special there." That's Nicole Hart. " ~ Roy Prescott, 93.5 WMWV's Blues Summit, Conway, NH

"With a vocalist who can sing practically anything she wants, and who helps write her own material along with a tight, hard working band; the Nicole Hart Band is ready for the next level of national stardom." ~ Ben Cox, Juke Joint Soul

"Hart unleashes fire and ice that Peggy Lee would've been proud to call her own and she can get as downright jazzed as Norah Jones." ~ Dr. Blues, Long Island Blues Society

"A wonderful, sultry voice... with beautiful phrasing, effortlessly competes with Winehouse and Duffy." ~ Keys and Chords

"Nicole Hart is one of the best voices in contemporary blues." ~ History of Blues

"Their initial CD,"Live," is an in-performance document that testifies to their confidence and shows Hart's raw gospel passion and a seriously tight band." ~ RICK KOSTA, ARTS WRITER, NEW LONDON DAY NEWS, CT

"Nicole is a talent who is on the move up in the biz. I was impressed by her ability to work the crowd into a frenzy with her voice. This gal knows how to use her beauty to enhance her talent without turning it into a distraction."~ WRITER RICK GRANT, REVIEW, "SPRINGING THE BLUES"
"What a stage presence! Gorgeous Nicole Hart sings with power, passion, and incredible range.. (her) BIG voice hits all the right notes...but it's the emotion in her voice that really grabs you." ~ JIM HYNES, Blues Director and Host of "Blue Monday" - WDVR-FM

"Nicole Hart leads the band with an incredible voice similar to that of Susan Tedeschi, but with a sound very much all her own." ~ AL LUNDY, KZUM Radio - NEBRASKA

"Don't let Atlanta native Nicole Hart's movie star good looks fool you, she can belt out vocals with the best in music. With her full rich tone, impeccable phrasing and precise pitch, it's obvious that she is a singer's singer." ~JERSEY SHORE JAZZ & BLUES FOUNDATION

"Imagine that classic band fronted by a beautiful blonde with a gospel voice and all the moves of Tina Turner. Get the picture?" ~ THE WORKING MUSICIAN

"This blonde bombshell's sweet, sultry and energetic vocals brought the audience into her hands." ~ The Journal News

"A big sound steeped in Jazz, R&B, Blues & Rock with incredibly soulful vocals. This band really knows how to cook with a blazing musical bonfire." ~ MUSICMORSELS

"Spectacular vocals & instrumentals bring their considerable talents together to rock your world: Rhythm & Blues at its finest!" ~ BARRELHOUSE BLUES, recipient, USA Today's coveted "Hot Site" award & "Livin'Blues"; Gold award for Virtual Excellence on the Web

"High energy, action-packed show. A real crowd pleaser!" ~ RIVERHEAD BLUES FESTIVAL


| | | |
| --- | --- | --- |
| | | |
| 2011 | | |
| Jan 8 | 10pm | Pete's Saloon - Elmsford, NY |
| Jan 13 | 1pm | Private event - White Plains, NY |
| Jan 22 | 9pm | High Falls Cafe - High Falls, NY |
| Feb 5 | 9pm | Keegan Ales - Kingston, NY |
| Mar 12 | 1pm | Private event - North Caldwell, NJ |
| April 30 | 9pm | High Falls Cafe - High Falls, NY |
| May 14 | 10pm | Pete's Saloon - Elmsford, NY |
| May 28 | 10pm | Dinosaur BBQ - New York, NY |
| May 29 | 1-5pm | Woodbury Common - Central Valley, NY |
| Jun 3 | 11:30-1:30pm | Journal Square - Jersey City, NJ |
| Jun 4 | 3pm | Cornwall-on-Hudson (NY) Riverfest |
| Jun 9 | 12-2pm | Renaissance Plaza - White Plains, NY |
| Jun 12 | 5pm | Invitational house party - Ringwood, NJ |
| Jun 25 | 9:30pm | Keegan Ales - Kingston, NY |
| Jul 15 | 9:30pm | 12 Grapes - Peekskill, NY |
| Jul 19 | 7-9pm | Westfield, NJ venue t.b.a. |
| Jul 23 | 7pm | Rosendale (NY) Street Festival, main stage |
| Aug 6 | 1-5pm | Woodbury Common - Central Valley, NY |
| Sep 3 | 6-10pm | Ocean Place - Long Branch, NJ |
| Sep 5 | 1-5pm | Woodbury Common - Central Valley, NY |
| | | |



Click on an image to open the full-sized, hi-resolution file
In the new window, right-click on the image to download; then close the window.
Nicole

8x10" JPG
300dpi RGB
2 meg

Nicole

450 pixels wide JPG
300dpi RGB
330k



Nicole

600 pixels wide JPG
300dpi RGB
136k

Nicole

500 pixels wide JPG
300dpi RGB
140k









Band collage

8" wide JPG
300dpi RGB
1.3 meg

@ Pete's Saloon

8" wide JPG
300dpi RGB
2.2 meg



Live gig poster
with space
to enter venue/date

11"x17" JPG
300dpi RGB
3.1 meg

Live gig poster
with space
to enter venue/date

8"x11" JPG
300dpi RGB
2.8 meg



Pete Levin


400 pixels wide JPG
300dpi RGB
94 k

John Cariddi


400 pixels wide JPG
300dpi RGB
78 k



Jerry Marotta


400 pixels wide JPG
300dpi RGB
72 k

Charlie Kniceley


400 pixels wide JPG
300dpi RGB
80 k

Nicole & Pete


650 pixels wide JPG
300dpi RGB
180 k

Jerry, Charlie & John


5x4" JPG
300dpi RGB
1.2 meg